WATER MILL IN SAINT LAVRENTIOS, MT. PELION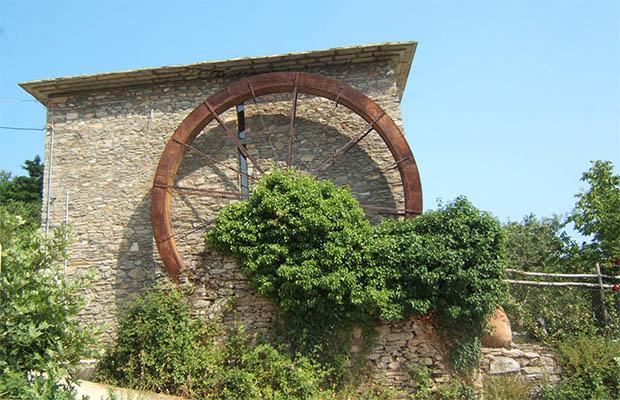 Mt. Pelion's range borders north by the sea, is covered with apple or chestnut trees with streams of running waters. A young couple bought a lonely old watermill with a flat or steeped land seeming larger than its 2500 m2 size. Its boundaries are a gurgling stream, a dirt road and a nearby small village hidden by chestnut trees. Between the apple trees sparkles the sea gulf.
Decided was to retain the artisanal watermill with the smallest interventions while giving it a residential use. The outer structure was fully preserved. Only a vertical thin glass slit connects visually the outdoor water wheel with the inner millstones held by early industrial wood frames.
Increasing the inner natural light was basic in this stone built space. The walls were all remastered. The joints became light colored with a floor paved with an antique rough cut marble from Kavala. Main change: painting the chestnut roof planks totally white, joined but accentuated lightly white swept beams and trusses. Locals considered white painting the roof an unforgivable crime.
Within the 6.40 m height (plus 2.00 m of roof pitch) the solution for a residential use was to create a mezzanine. The position and airy stairway with banister were specially studied. Above is a small sitting area with passages for master and guest room with bathrooms. On ground level an open kitchen, with a small built stove and guest wc complete the rudimentary needs.
Fireplaces became rectangular white and the smoke stacks with the traditional decorative ventilation holes. The old stone window lintels repeat their traditional form.
Added were wood auxiliary shelters, a front pergola, the built roaster-grill and oven. At a small lower level was a roofed independent guest house, near the stream with a varnished chestnut carpentry to satisfy our unforgiving neighbours!
Identity:
Michael Photiadis Associate Architects: Ph.Photiadis
Constr.:N.Trapalis 2001 – 2004
Main House : 202.00 m2, Guesthouse : 57.00m2, Auxiliaires :80.00m2.