SPETSES KOYZOUNO BEACH-FRONT HOUSE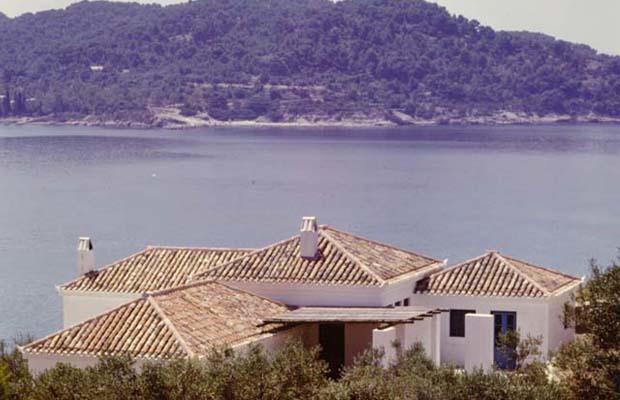 Across from the private little island of Spetsopoula lies a narrow sliver of eight thousand m2 with a coastal front of three hundred meters with sparse olive trees. The building followed the allowed surface of 200 m2 while keeping the Building authority's regulations for the Spetses traditional forms.
The house is made up of four volumes with four-sided roofs. The central taller one covers the living area. Behind lies the square kitchen and two long wings each sheltering two bedrooms with bathroom-dressing in between.
For this ground level house important are negative spaces, i.e. sheltered terraces formed by two volumes and a free standing wall. These continue inner spaces offering sun or shade depending on the hour of day and time of year.
The entry court features a typical pebble wind mosaic, the kitchen has a protective bamboo pergola and the living terrace of three balcony doors with the grand sea view is framed by the two bedroom wings.
The contractor and carpenter along with all island workmen were coordinated and quick. Within seven months the house was lived-in.
The materials were true to tradition: wooden roofs with apparent inner trusses, traditional byzantine roof tiles, white plastered walls with blue and turquoise doors and windows. The bedroom wing floors are ochre cement tiles with reception and terraces are pebble framed flag-stones. The bathrooms offer ochre shaded marble cladding.
The 20cm void within the 40cm exterior brick walls was filled under pressure with an insulating material. A surrounding cement channel at the brick tiled roofs guides rain water to pipes dug into the outer walls that lead to the 150m3 cistern under the main terrace. Most furniture are built-in for this vacation house of simple maintenance.