PSYCHICO HOUSING PROJECT 'KEKROPS' BY GEK-TERNA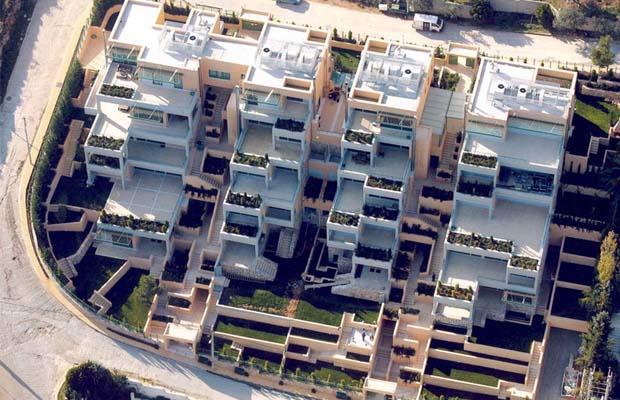 The project lies in Psyhico, a suburb just fifteen minutes from Athens. The grade difference between the two parallel streets is 15 m with astonishing views to the ranges of Penteli, Parnitha, Hymettos and the city of Athens.
The steep site of the housing complex developed on a five story permitted maximum height. The total volume is broken into modular rectangles with sides defined by equal concrete columns. The terraces reach a 10m depth with a 2m overhang of flower bed. For energy care, illumination, views and ventilation the built area was divided in two strips of four housing zones with two elevator cores. Thus two upper and two lower gates are shared by residents who own eleven two storey units of 200 to 540 sq.m. each. The central external stairway strides slowly through the planted garden.
At the basement two car garages share space for 30 cars. All apartments have access to a fitness room and covered pool.
Unified materials cover the broken down spaces. The structure and banisters are in apparent concrete and so are the roofs of the terraces. Stairway surfaces are ocher coloured. The garden and unit retaining walls are made from the site's stone. All aluminum frames are coloured in oxidized-copper green. Stainless steel are the fireplace chimneys cylinders just as the apartments' main doors. Terrace paving is in rough red-brown marble, contoured in white marble frame. Interior floors are wood parquet over a floor heating system. House furnishings are often quite contemporary and fitting to the exterior mass and detailing. A garden two story unit is shown in more interior detail.
Identity:
Michael Photiadis Associate Architects: M.Photiadis, E.Vourloumi, N.Bakalbassis
Surface areas: above 2030,00 sq.m. , Below: 1900,00 sq.m.
Study: 2001 / Construction: 2003 by GEK – TERNA.