PATMOS MONASTERY OF THE APOCALYPSE CAVE, RESTORATION- NEW VISITORS ENTRANCE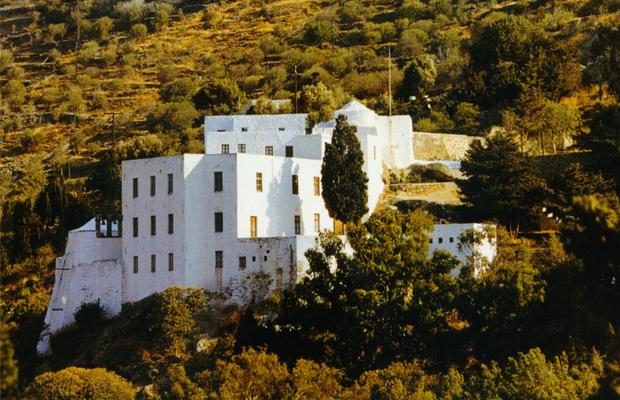 Monastery's Museological Presentation and Small Byzantine Educational Center.
Monastery's New Visitors Entrance
1. Retaining interior and exterior architectural details.
One way entrance from the NW corner of Building Γ, levels 1 and 2, four levels lower than the existing entry.
Excavation of Intermediate space as connection of large reception rooms for visitors lecture spaces leading through the tiered courtyard to the Apocalypse Cave visit.
The exit will be from level 2 next to a refreshment area.
The Educational aim of the Monastic function is the creation of:
a. A Museological presentation node with Lecture spaces etc.
b. Small Byzantine School teaching Icon painting, Restoration (icons, books, binding) and Music (psalms).
c. Monastic Library and Reading rooms at the upper existing storeys with the Archondariki below.
About 70% of construction (building and carpentry) is ready. The courtyards, the roof planting of the stone visitors toilets, Connection spaces and visitors Lecture rooms with air conditioning units in place.
Unfortunately financing by the Ministry of Culture through the Rhodes Ephorate ended in 2004, before the project was finalized. Although the Ephorate proposed to the supervising Monastery of St. John to lend the remaining expenses, (with the Ephorate's administrative management) the project stopped as the Monastery was unable to offer the economic aid.