PATMOS MANY LEVELED WEST HOUSE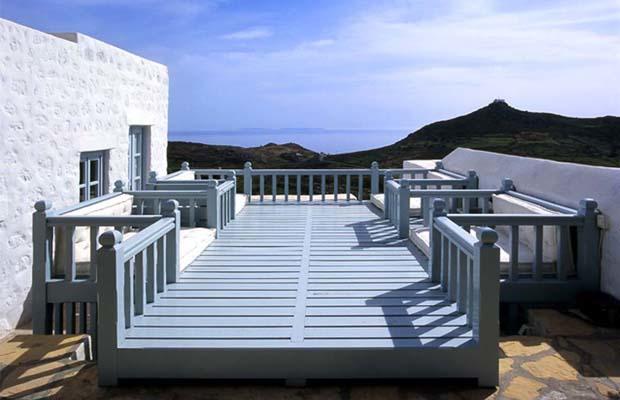 Hora in Patmos has one of the best conserved agglomerations in Greece. Built from the 11th cent. as an urban spiral down the Monastery of St John the Theologian, who in a cave wrote the shattering Apocalypse. At its wealthy period it received constant pirate attacks when men were at sea or in commerce with Venice, Vienna, Odessa. Women created a social matriarchy where parents bequeathed house and fortune to the eldest daughter.
S.W. House in Hora Patmos
This house was constructed on an urban site acquired in phases by the owners. The area is called "Kamarakia" from "kamara" (arch) which connected the south houses neighboring the Monastery's yard for protection. Remnants of previous arches allowed their reconstruction.
The owners wish (she a painter, he a writer) was a focal view to the setting sun. Independent rooms for two daughters and guests added seven mostly invisible guestrooms, each at different level, where circulation leads through planted courtyards with private corners. The inclined ground (7 m high at 22 m length) opens amphitheatric views south and west retaining absolute privacy for entry and living. The kitchen (necessarily noisy) is independently placed with its own street entry. The winter living room (sala) is central while the painting studio and writing study are totally private. The house has four exterior doors; an important Patmian feature since two was a necessity for pirates defense ("They entered from one, you escaped from the other").
Broken volumes, walls covered in white plaster or in apparent stonework, help tie the house to the town's environment without clues of its size (another Patmian defense feature).