PATMOS DOUBLE HOUSE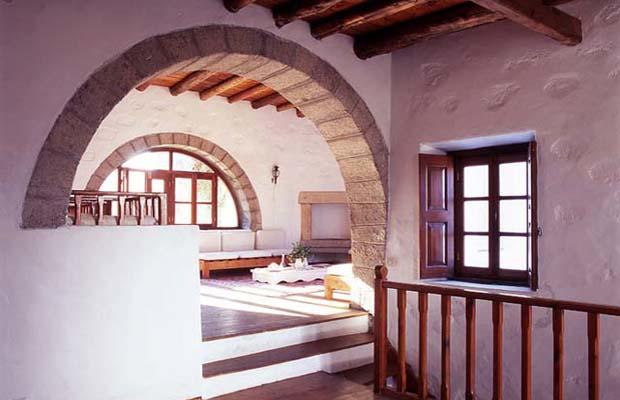 This unusual unbuilt lot is within limits of densely built Chora.
Remaining were traces of foundations and the surrounding walls of the outer property. On each abrupt house border named were the courtyards with a view to the port of Skala.
The tracing of the independent two houses of a total surface of 1300 m² have a level difference of 7 m or 16 m length.
The stone wall of the upper road connects with the seating area, the fire place and "ondas" (sleeping level). Lower in steps is the kitchen/dining in a court protected from the sea wind (meltemi). Wooden steps lead to a bedroom with built-in beds with a second entry from the lower road.
Traditional builders, like the imaginative Venedictos Paradisis and carpenters such as Nicholas Pentes, teamed up in this traditional space. Concrete is discreetly apparent within ceilings and beams.
Architectural elements are essential as incorporated to the natural and built environment. At the imposing Brussels Municipality, in March 1983, at the Grand Place, this study was awarded by the International Union of Architects (U.I.A.) as presented by the Belgian Housing Committee
Study: 1980 / Constr: 1980-83