OKEANOS OFFICE BLOCK – ILISSIA, ATHENS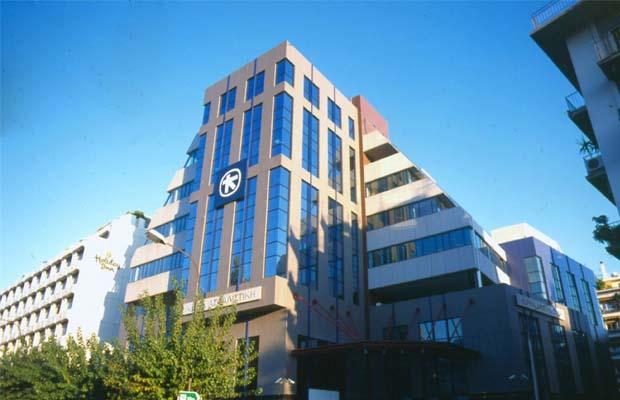 The OKEANOS office property had the unusual site of an entire building block of 1900m2 in Ilissia (Michalakopoulou Avenue) on the preferential "off- ring" area of Athens CBD. It covers the needs of "Alpha Insurances" or Alpha Bank with eight floors and mezzanine above ground (7.000m2) and five basements underground (8.000m2). The building is near Ampelokipoi Square on Mesogion Avenue, next to the Holiday Inn hotel and near the refurnished Hilton which also belongs to the Alpha Bank group. The area is mixed use ( offices and housing) a vital factor in European cities.
Its particular geometry becomes an orientation volume for the avenue and the surrounding area. Story elements are the curtain wall with Belgian eternity changes colors during the day with the no- reflection sun absorbing glass, the symmetrically inclined central volume with the black marble base. The building solves problems in better natural light penetration facilitating pedestrian and car circulation.
Floor surfaces diminish as they rise, helping problems of fire escape and employee circulation. The built volume analyzes in a high central vertical part with sloping north/south sides, with a cut away of covered terrace on third level with a continuous black base.
The main Entrance is reached from a small northwest piazza leading to a three story lobby of 10x10m. The geometric design of the marble floor and the suspended entrance canopy mirror each offer. On Dimitressa Street are the Delivery and Parking entries.
The office arrangements are both open plan and private spaces. False ceilings combine plaster and mettalik panels. Dividing walls are plaster panels or shorter dividers in sandblasted glass. Raised floors allow for cable infra structure passages.