LAMDA DEVELOPMENT HOUSING COMPLEX KEFALARI KIFISSIA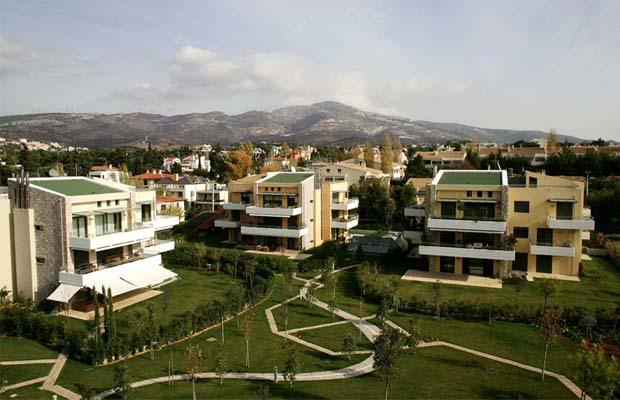 For a housing development, a 10.000m2 site in Kefalari Kifissia, is a prime given. The owner, Lamda Development, chose the architect through a small competition between a few invited architects (N.Valsamakis, A.Tombazis, M. Photiadis, etc).
The coefficient is smaller than that of Kifissia, allowing for a larger open space and a choice of housing solutions. The client's feasibility study named the need for units of around 160m2, with three bedrooms and large reception terraces. Each building has two units per floor and larger surfaces for ground floor units (with private gardens and basement auxiliaries) and third level units (with mezzanines and penthouse terraces).
The 24 units are divided with entries from either Avras or Gounari streets, with basement garage, fitness center with pool and a private access per owner.
Each block has walls clad in apparent stone; plastered walls are earth colored. Top units have inclined roofs and terraced parts are covered with suspended fritted glass panels.
There is a 2,50 m. level drop between the two access roads. In the open space, a footwalk network guides to private gardens and a wider one to the two exterior gates.
Changes in apartment divisions is simple, as they are of insulated plaster board anchored on heated floors.