HOUSE ON STROFYLIOU STR., LOWER KIFISSIA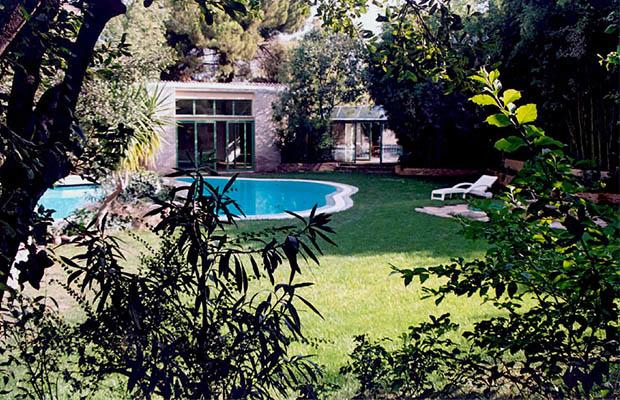 When the four children left to create their own independent families, the parents needed a smaller house with an easier upkeep.
Their land was sufficiently large for a friend to acquire and their family house with a remaining land for an already rich, leafy garden and a new single floor house within.
The commission was to create a new house connecting existing surrounding small auxiliaries as children's game rooms, a guest bungalow, workshops, storage spaces.
The program named a new entrance, dining room and two kitchens (his and vegetarian hers) and a long living area that would connect all the separate family shelters. A series of smaller or larger sitting areas gather various age groups with openings to the surrounding garden. Skylights retain privacy, for a house vanishing into the garden. The vanishing act succeeds better with ochre plastered walls or in apparent solid bricks. Even the fireplace hearth, through fire-proof glass, focuses on the pool. The corridor connecting reception and bedrooms is framed by bamboo plants with sliding doors and a pitched glass roof.
The structure and the off-white plaster board walls have the simplicity that allow the cohabitation of old or contemporary family furnishings and paintings by father Spyro Vassiliou and the granddaughter.