GAIA ENVIRONMENTAL CENTER – KIFISSIA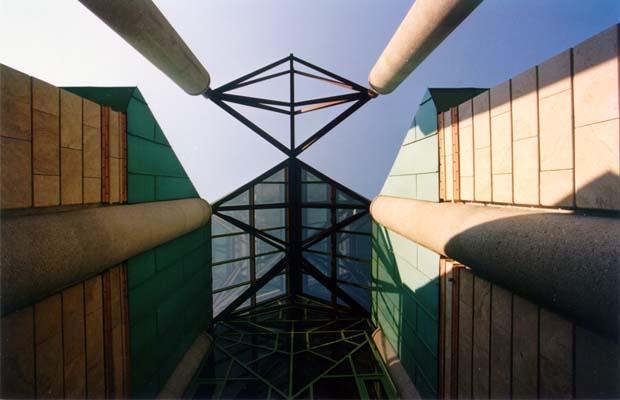 GAIA Environmental Center,
Goulandris Natural History Museum, Kifissia Attica
GAIA belongs architecturally to the building directives of the historic suburb's "neoclassic zone". The center is about triple (12.000 m²) the initial G.N.H.M. A special Decree permitted only two (of the six) stories visible with the penthouse in setback. The main lobby area is the site's actually 30%. The corner cut-outs reduce the basic rectangle & volume. Walls have hung stone cladding with stairs apparent brick. The roof is covered in green-hued preoxidized copper.
The building has bioclimatic ventilation with seven 9m high vent stacks and passive energy saving systems.
The entry is sided by a gift shop and visitors lounge with a new café-restaurant at the G.N.H.M. South of the metal spaced reception is the two-story interactive Environmental museum. The six m. diameter unique Globe alternates programs of the planet's birth and aspects with six inner projectors. The lecture and music Amphitheater at basement level has a lobby for other functions. The Library reading room has a sliding book stacks system below. Six highly equipped active laboratories of Biotechnology, Hydrobiology, Zoology, Soil research, Ecology and Herbarium service needs of both Gaia and the State. The 3rd and 4th basement levels accommodate a 100 unit garage.
Goddess earth, Gaia appears at the reception lobby photo structure from a 6th c. BC urn. At the Amphitheater lobby Gaia's birth is central to a seven meter relief from the Pergamon temple in Berlin.
The Museum received recently two awards:
• The Hellenic Heritage Public Service Award by the American Hellenic Institute – 2010
• ICOM, Museum of the Year for 2012.
Identity
Architectural: M.Photiadis Associate Architects / Arch. team: M.Photiadis, E.Vourloumi, L.Giannoussi, S.Silitzoglou, Ph.Photiadis / Structural & Installations: Frank E.Basil SA / Acoustics: G.Schubert / Landscape: M. Haidopoulou Adams, Prof. M. Santamouris, M.Vey / Museology: Br. N.H.M: Furneaux – Stewart / Management: N.Malatestas / Study: '93-'96 / Construction: '97 – '00 Joint Venture: GEK-TERNA & AKTOR SA / Photos: N.Danielides, D.Kalapodas, b.w: E.Attali