FIAT HELLAS HQS – VOULIAGMENIS AVE., ATHENS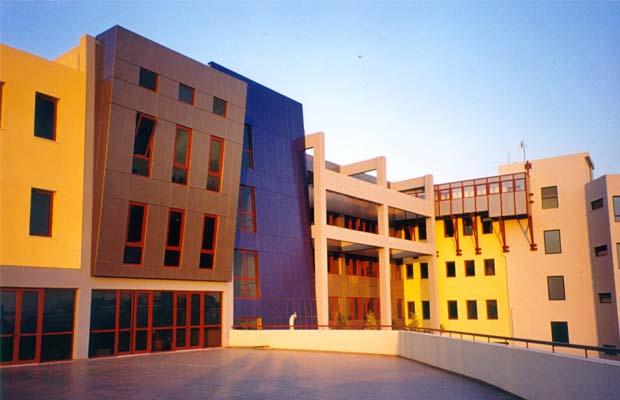 Vouliagmenis Avenue, connects the city of Athens and the older Ellinikon airport. The area has developed as a center for car representatives, offices and show rooms.
The FIAT HELLAS headquarters covers 6.500m², where 3.600m² are office spaces with three lower levels of covered parking.
The five storey building with two basements was organized as part of the urban volume of the owners' existing structure. The bearing elements are apparent; the simplicity of the volumes is clear and the curtain walls too.
The elevation rhythm of the new building is underlined by the structural module and the location of the windows. From the long trapezoidal volume whole sections were pulled away, liberating two to three storey lean covered spaces 7.50m façade module tilt in or out in full height or in two administration levels. The stairway becomes an orientation point by reaching 20.20m, 2.20m higher than the remaining elevation.
The main entrance is from Vouliagmenis Avenue, on a higher level. Public access is through "FIAT credit" before reaching the reception counter. The clients' car ramp connects with the garage.
Employee parking from the lower road offers 150 car spaces.
The separate Educational Building includes classes and maintenance groups. Its roof is an open terrace for the third floor restaurant's employee dining. Mobile partitions on a raised mechanical floor define offices and meeting areas, which can change according to needs.
Constr. GNOMON s.a.
Study: 1999, Const. 1999