EKALI MODERN ART HOUSE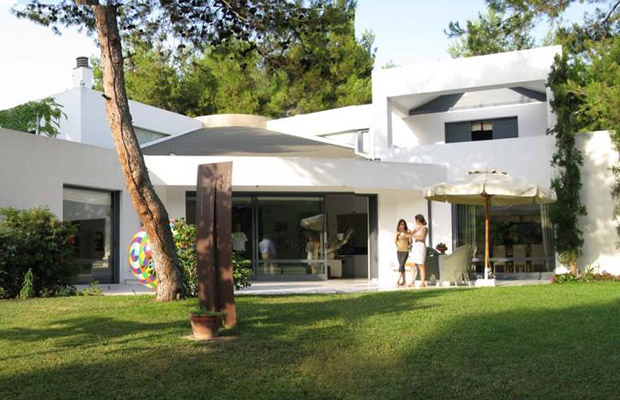 The shape of the site and the clearing of the pine-clad suburb determined the house location. Supporting walls have retained the elevated garden without street border fencing.
The central reception area interconnects with the garden. Private zones are defined on either side of the entrance: bedrooms on upper floor, kitchen and study on ground floor.
A two level cylinder forms the entrance hall with a skylit ceiling. The Indian red colour covers inner and outer surfaces accentuating this volume with the semicircular staircase. A "bridge" completes the upper floor access circle separating entry from living areas below, while leading to the owners' bedroom suite east and the guestroom suite west.
On the red cylinder pivot two rectangular wings, with in between, the inclined trapezoid roof sweeping into the garden.
Michael Photiadis Associate Architects: E. Vourloumi, P. Pappas
Constr.: Franko ltd, 1994 – 96.