EKALI INNER COURT, ESTIAS STR.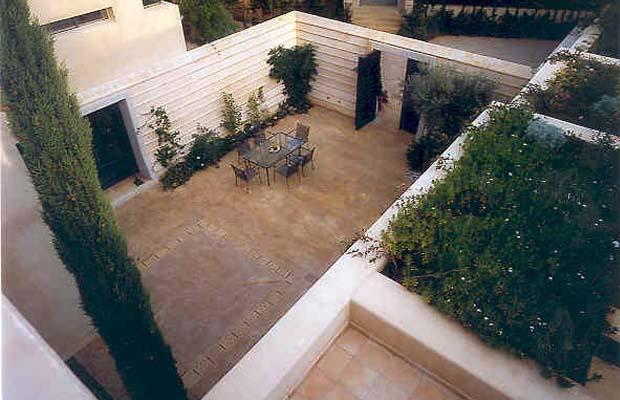 Ekali is a suburb with protected pine trees. The natural ground's inclination allowed an entrance on upper street with a lower level on grade with garden and lower street. The house total surface is about 1.200 m².
The inclined surrounding walls are ochre plastered. Horizontal apparent rough marble strips on base similar to the terrace pavement. Concrete framed doors and windows, dark grey aluminum frames with shingled grey roof tiles, have connecting planted roofs.
The south gated courtyard is entry and private reception. Three sliding doors lead to living, dining and library. An east-west inner loggia connects these public spaces with the kitchen-service area and a private office suite with its own exterior entry and waiting room.
Two identical staircases lead to the upper level with four main bedrooms and service quarters with their own sitting and sleeping rooms.
The basement enclosed swimming pool has visually connected water to a planted garden pond. A hobby room and sculpture studio are joined to it. Skylights with reinforced glass light-up dressing, bathrooms and the swimming pool below. Between garden foliage an unsuspected bronze sculpture by De Chirico at two and a half m. High peers through from its cubistic surreal presence.
Michael Photiadis Associate Architects: Ph. Photiadis, S.Silitzoglou
Constr.: J.Cloukinas – I.Lappas S.A., 1999 – 2001