BP HELLAS HQS, PHILOTHEI, ATHENS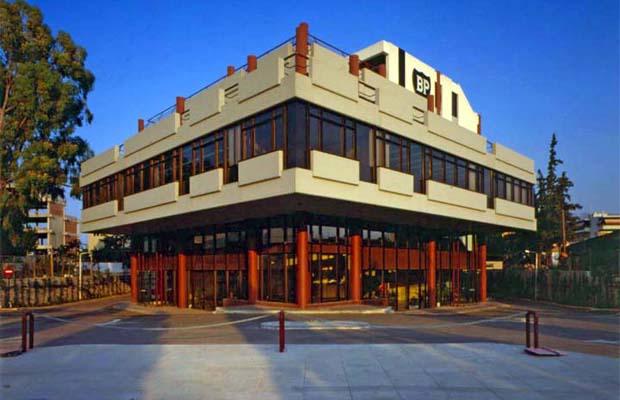 The four-storey office building is on a flat narrow lot vertical to Kifissias avenue on the Athens suburb of Philothei. The building brief was based on the company administration questionnaires. The structure has a stepped up volume with a main trunk of sectors with a view to the avenue and a back service road.
The initial accepted preliminary study would have covered 40% of energy needs (heating, cooling) through south solar collectors by a BP affiliate company (installation designed by P.Kamarinos). This solution involved an increased cost. 'London Times' wished for an exclusive presentation, with a follow-through by late M.Modiano's top reporting. This extra cost would have been absorbed by the company's obvious publicity gains. Unfortunately the designers were finally directed to a classic energy study. Thus lost was a new architectural image due to a remarkably precocious energy application.
The street level floor of 950 sq.m., includes the building entrance, a meeting hall, a show-room and office space, a mezzanine of 400 sq.m. and the three floors above including the penthouse level for a total area of 4,100 sq.m. Auxiliary spaces and garage are on the two basement levels for 3100 sq.m. for a complete total of 7.200 sq.m. The building is organized on a 1.20 m. module with 7.20 m structural spans. It received a 1993 Ministry of Housing Architectural Award among completed projects.
According to the company's new functional policy, the building was sold to a successful third owner: "Pricewaterhouse Coopers".
Identity:
Michael Photiadis Associate Architects: M.Photiadis, P.Massouridis, L.Giannoussi
Study: 1985 / Construction: 1987 By I.Sigalas s.a.