ASPRA SPITIA HOUSING DEVELOPMENT, DISTOMO, BOEOTIA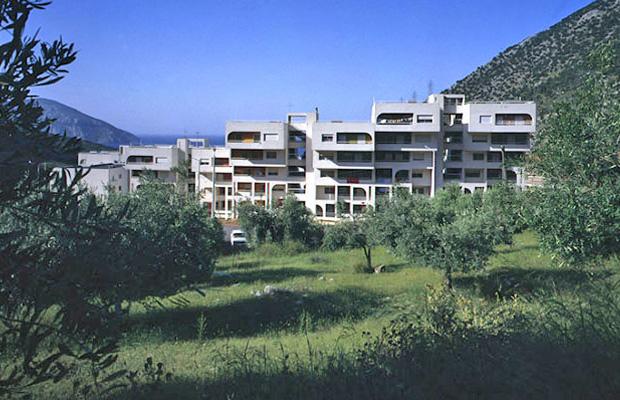 NEW MASTER PLAN 1977
The Aspra Spitia Housing Development at Distomo, Boeotia commissioned our office in 1977 to upgrade the social program of the Doxiadis Office initial study.
The study dealt with the construction of two zones of Apartments; Proposals for New Units; Nursery School; Tutorial School; Guest Coast Houses (studied, not constructed); Director's House.
The "weaning" of Aspra Spitia from "Aluminium of Greece" was a sociological and practical demand by the administration and the inhabitants.
Aspra Spitia Boeotia is the only Housing Settlement of a Company Town in Greece. The Doxiadis Office settlement was inhabited in 1965 by 4000 people.
In 1975, the firm "Michael Photiadis & Associates" was commissioned a New Housing Master Plan following the unexpected workmen's rise in numbers and higher living standards.
The New Master Plan, presented in 1977, was developed by:
Aristidis Romanos : Architect – Town Planner
Alecos Calligas : Architect
Maurice Modiano : Economic Analyst – Structural Engineer
Marina Haidopoulou – Adams : Landscape Architect
Of the commissioned Master Plan two housing zones were built: The 162 Apartments and the Nursery School. The Tutorial School has not been totally finalized. The Guest Coast Houses have not been constructed.
Eventually the Circulation system and the Building Blocks have been implemented.
ASPRA SPITIA BOEOTIA: 160 DWELLINGS
New Master Plan
Aspra Spitia is the only housing development in Greece designed to serve the needs of an industrial complex ("company town"). It was planned by Doxiadis Assiciates and inhabited in 1965. The population was 4.000 in 1975.
A revision of the existing master plan was deemed necessary due to the unforeseen population growth and the high living standard of the employees. This study was commissioned to the M. Photiadis Office.
The new master plan was completed in 1977. A series of housing, educational and leisure zones were programmed by way of expansion and replacement. The two schemes which include 160 dwellings were completed in 1984 and are arranged around a green area and play yard with urban character, with pedestrian separation from car circulation.
85% of the dwellings have three bedrooms, 10% have four and 5% have one. There are three typical floor plans in all, type Y and type Π with two apartments per floor and type Σ with three apartments.
Architects M Photiadis and P. Massouridis. Collaborating Αrch. M. Veneti