ARAHOVA WINTER HOUSE, MOUNT PARNASSUS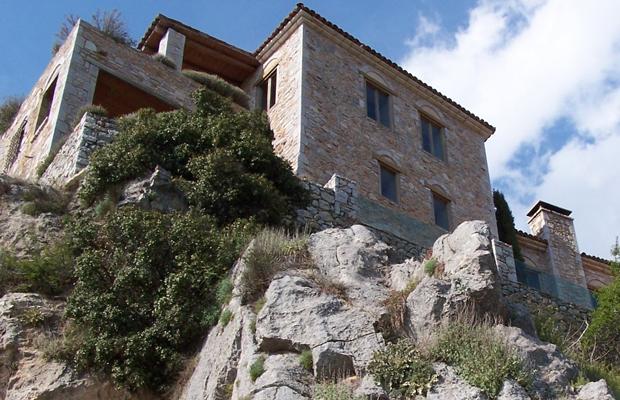 Bound by three cobblestoned streets of Arahova, the house has a stunning front view to a rocky gorge of mount Parnassos.
It combines a mountain village urbanity with a free standing rural lodge. On the steep ground the initial solution followed successfully a construction in slow phases. The long two storey volume consists of a central reception with bedrooms at both ends: the highest as master bedroom, the lowest a semi basement for guests. In this winter chalet of 350 m² six bedrooms shelter friends.
The main entrance is through the protected north court, leading to a guest room or to the long two-level living with an inner access balcony to south-west bedrooms. The fireplace is a focal feature. Opposite is the dining room and kitchen.
South windows and balcony doors look towards the mountain with a stone paved terrace. Bold stone joints name apparent roof beams with clean joints of contemporary materials. The colours are those of natural elements, highlighted by plants within the tightly-knit spaces.
Study: 1997 – 98, 2001 – 02 / Constr: 1998, 2001 – 03