'AIGIALOS' SUITES HOTEL – FIRA – SANTORINI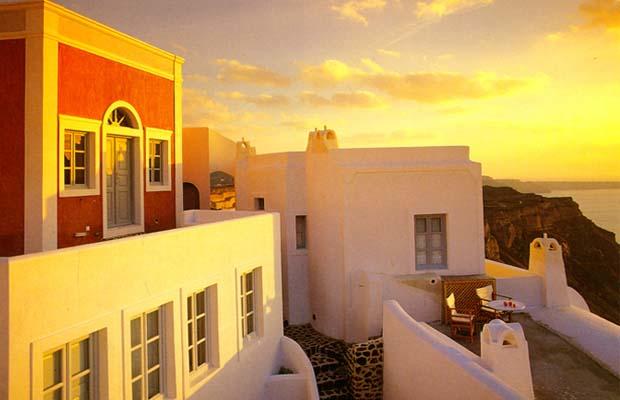 The hotel complex 'AIGIALOS' is within a listed neighborhood consisting of old houses, wine press halls (kanava), dug-out spaces (hyposkafa). It lies between three streets with a 12m incline. Four built levels develop. The 4th (at 12,13m) is the entrance from the upper road, and the 1st (± 0,00) is the lowest road where rooms are vaulted dug-out spaces.
Getting a permit was particularly complex and time consuming. After the 1956 earthquake, data was based on existing ruins and photographic archives from Nelly's (1936), the German Archaeological Institute Archives of 1987, and the Benaki Museum Photo Archives.
The permit was issued by the New Monuments Service, followed by the Greek Tourist Organization, the Santorini Architectural Board and the Building Authority. Exempt from the 1300m² coefficient are balcony and terrace surfaces, the vault covered pool and auxiliary rooms. Listed elements of the island's architecture are retained within the new construction.