DEERE AMERICAN COLLEGE OF GREECE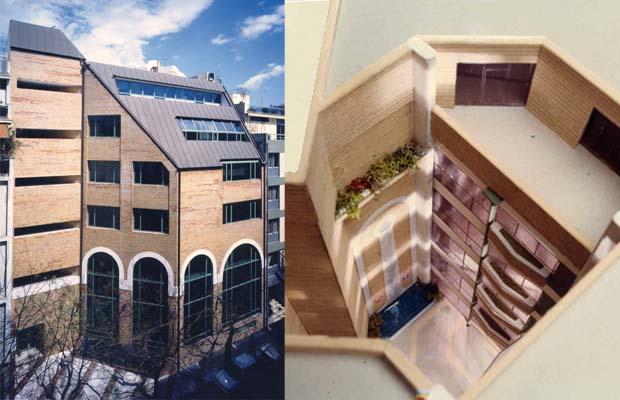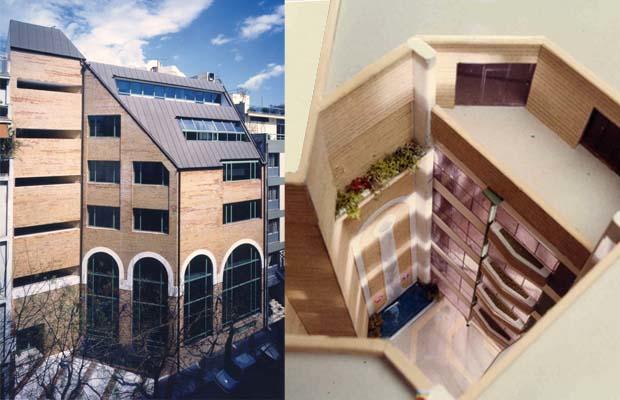 At an urban site of 1.000 m², classes for approximately 1.700 students are housed in a building of eight floors, covering the needs of a small campus. This is why at the American College Headquarters at the 'Agia Paraskevi' suburb, it is always reffered to as "Downtown Campus". Two access entries were created at 45˚ angles to parallel streets, vertical to Vas. Sophias Avenue. An interior atrium completes upper floors. Students are protected from Xenias street's heavy traffic. This floor arrangement creates brighter classrooms and better lit inner circulation. The first basement is occupied by a Library and reading rooms. The Ground floor contains a large lobby. On quiet Kartali front, the students' cafeteria services the atrium also. The entry area is used as an exhibition space and information foyer for the 110 seat auditorium. The four floors house 6 to 9 classrooms each, of 20 to 50 students. The fifth floor houses Administration, with spaces for Secretariat, Accounting, Professors' offices and Management.
The use of visible bricks, along with the external two-storey arches refer to the parented vocabulary of U.S. college buildings, while the penthouse copper cladding and bronze water pipes complement this picture.
Area: 5000m²
study: 1990, constr: 1994.