SANTORINI VERNACULAR & ART MUSEUM Beyond The 16th Century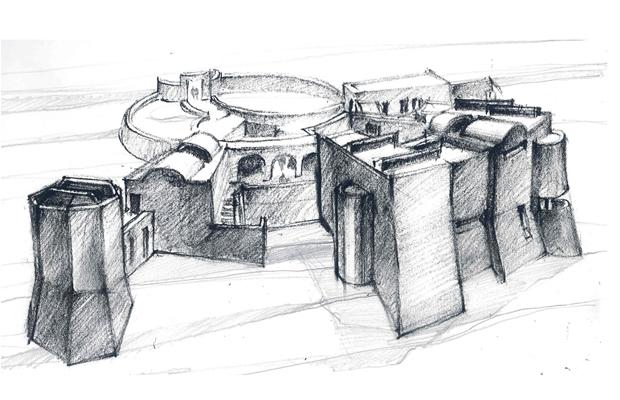 SANTORINI VERNACULAR & ART MUSEUM
Beyond The 16th Century
An east side winery of 8.500 m² overviews the sea and Fira. From a circular walled courtyard the small museum grows with enclosed or open-air spaces for display or gatherings, connected with vaulted arcades. The Tsitouras collection of folk art and after the 16th century has galleries of modern collections and the study rooms of nobelist Seferis, Archaeologist Marinatos etc. Added are a 200 seat tiered amphitheatre and a lecture lounge with a temporary gallery.
A small chapel with a small group of wedding party guestrooms can service private functions at protected terraces with organized catering facilities. A snack bar and gift shop services visitors.
The enclosed, protected or open spaces create volumes covered with Thyra's earth colour tying them to their environment.
The display areas are naturally lit from skylights. Living spaces such as guest room or guard's quarters, just as snack bar and ticket office have exterior openings.
The built and covered areas along with the open air ones make for a total of above 3.700 m².