PASSENGER WAITING 'WELCOME PATMOS' Skala Port Patmos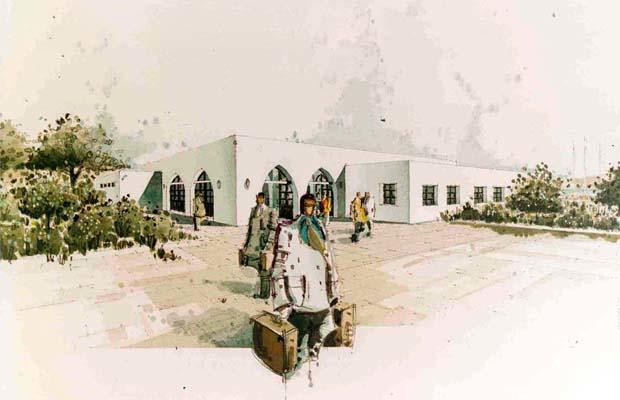 PASSENGER STATION
SKALA, PATMOS
Ass. K. Demetriou, L. Giannoussi
The large natural bay of Skala forms an ideal port (sheltered from south winds). But until about 1975 there was no wharf, and passengers had to board small rowing boats to get from the ship to the coast.
When the construction of a dock was decided (200m long by 50m deep) with concrete framing and stone infill, it became necessary to include a Passenger Station for arrivals during night or early morning hours (until the early 70's a once a week connection).
Architect M. Ph. made a donation to the inhabitants (and visitors) of Patmos of a full study for a Passenger Station to be built by the Dodecanese Port Authorities. After coordinating a building program with the proper channels, the drawings were made, approval wa
s obtained from Rhodes, Kalymnos, and Leros under the auspices of the Dodecanese Port Authorities. The contractor was named, and the building was in place by 79, but was not finished until '88, when the wharf's environmental work was completed (parking area, planting, lighting, irrigation) on time for the 900th anniversary of St. John the Theologian's Monastery in Hora.
The Passenger Station consists of a 200m² Waiting Area with glass doors towards the port and Skala. Two low L-shaped buildings envelop the two corners. One houses the Port Services (with Customs, baggage and Patmos Tourist Services). The other includes a Snack Bar and public toilets.
The Waiting Area has broken arches (copies of Patmian 18th century ones) and normal arches on the same axes, underlining the island's both Byzantine and Venetian influences.
Although pergolas and vivid colours inside and out have maltreated its Patmian looks, for two decades now it has been functioning as an orientation node at the Port, full of people at all hours of the day and night.
Planting was successful despite our concern. Concrete in situ planters name the green enclosures.