THE NEW ACROPOLIS MUSEUM – ATHENS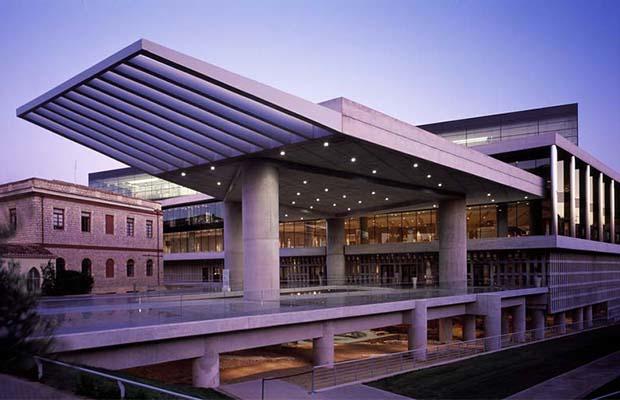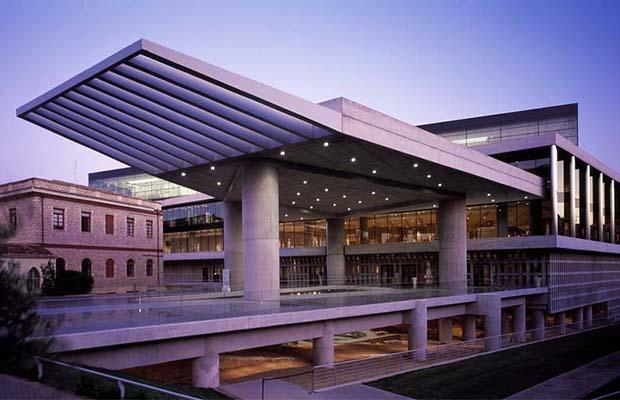 THE NEW ACROPOLIS MUSEUM (NAM), Athens
International Competition, Inauguration 2009
After 33 years of three unresolved competitions, including the international of 438 entries, site environmental changes directed a final international competition. In September 2001 First prize was awarded to the team of Bernard Tschumi architects, NY & Paris with Michael Photiadis, Athens. The 7 hr time difference was an association that speeded up design follow through by internet production.
The OANMA foundation (Organization for the Construction of the New Acropolis Museum), presided by professor Dimitris Pantermalis organized the competition declaration and presigned contract. He remains president of the Museum.
The site retains the housing excavations from Hellenistic (2nd c. BC) to early Byzantine (7th c. AD). Bearing parts were agreed between archaeologists, architects and structural engineers, covering only 1.7% of the excavated area.
At the entry level visitors ascend, a low glass ramp between two structural and installations core elements to reach the 8 m. high display spaces. The second level presents the Archaic period, the Caryatids with a two level view below, followed by the Parthenon Gallery.
This top all glass gallery created the Jury's energy-splurging reaction. This level's axis was shifted by 23 degrees for the same orientation of frieze and metopes originally at the Monument. The ultimate aim is to unite the divided sculptures, 55% at the British Museum (the 'Elgin marbles') and 45% in Athens.
The history of the residential layers is visible through the glass floor. Auxiliary spaces include the Café Restaurant mezzanine, the tiered 250 seat Amphitheater, the Traveling Display gallery.
Special technological and functional elements were solved.
• Seismic insulation: 94 seismic bearings beneath ground level at the unachievable 10 of the Richter scale.
• Fire protection: Sensors shut fire protective curtains, leaving open spaces.
• Acoustic Insulation: Under concrete panels with round holes.
• Hybrid Condition: Parthenon Gallery frozen air duct ascends keeping 23oC within when outdoors is +40 o to -10 o
The Museum was designed to receive 10.000 visitors daily within its 23.000 sq.m. mixed area. From 2009 to 2013 there were 5,5 million visitors. All of the Museum's expenses are totally covered by its own profits (tickets, gift shops, restaurant) without state or private funds!
The AIA (American Institute of Architects) awarded it Best Design of 2011. Selected within six finalists of the 'Mies Van de Rohe' Architectural Competition of 1910. In May 2013, among 50 Museums, the 'London Times' voted it the third most important world museum, after the Smithsonian in Washington DC and the British in London.
Identity:
Architectural Design: Bernard Tschumi Architects with associate Michael Photiadis Architect / Architectural Team: J. Rutten, project architect A. Dayem, A. Dimitrakopoulos, J. Kim, E. Sopeoglou, K. Starr, A. Save de Beaurecueil, J. Chace, R. Holton, K. Linker, V. Bontjes van Beek, L. Kim, K.J. Min, D. Holguin, K. Siderakis, C.Lee, L. Supp, N. Chatzimina, M. Metcalfe, J. Moore J. Aviles, G. Papadavid, A. Chee, T. Goowill, V. Descharrieres, C.Devizzi, G. Kriparakos, N. Bakalbassis, P. Photiadis, S. Photiadis, J. Peel, N. Plevri, M.Sarafidou, M.Grivas, H.Voutsina, M.Oikonomou / Structural: ADK, M. Aronis, N. Petrovits with collaborators Ove Arup NY / Installations: MMB R. Maris, P. Gourdouparis with lighting Ove Arup London / Seismic : M. Constantinou / Fire Protection: H. Schatterman / Total Area: 23.000 sq.m. / Study: 2001-2005 / Construction: Themeliodomi 2003, ALTE 2005, AKTOR 2008 / Photos: OANMA group, N.Danielidis, E.Attali, Militos group, M.Photiadis, etc.