KATRANTZOSPOR Dept Stores – Heraclion Crete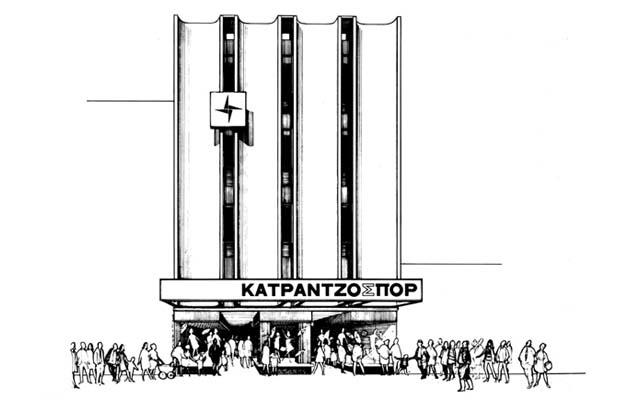 The department store at Crete's Iraklion was on an old hotel's site at Vassileos Konstantinou Avenue. Following the necessary restructuring the store took over five floors (including ground floor) with the manager's flat on penthouse. Architect Michael Photiadis introduced a large public staircase turning the existing one into a service one. A new goods elevator was placed next to a small one of public safety. The new elevation was divided into white smooth elliptical funnels plastered covering a metal mesh support with three vertical narrow glass strips sticking out giving each level's passing customer, the view of a void within a square.
The choice and selection of goods was studied in detail in matters of sale, exhibition and season for distribution within in the buildings several in a method to be repeated in other stores soon to follow. Women's knitwear, the store's most popular commodity, was placed on ground floor. Menswear and sportswear were located on first floor. Childwear was on second floor and divided into three sections, goods for 'the girl', 'the boy' and 'the baby'. Womenswear and casual wear were placed on third floor. The central area was used for ample circulation sport sales, self service and cash registers. Furniture design was the architect's design study for the chain's growing chain.