KASSIOPI Tourist Development 'NEREUS' Corfu 1974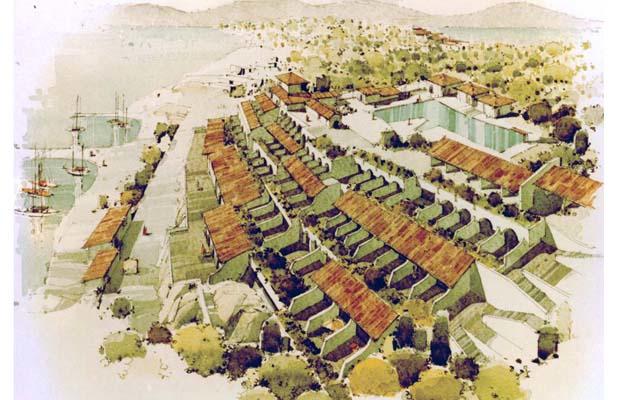 KASSIOPI, CORFU Tourist Complex
Conceptual Study 1974
38 Km north of the city of Corfu, the Kassiopi peninsula has an international airport with a 700.000 yearly influx of British, German and Russian tourists. The area of about 420.000 m2 includes forested areas, with a low exploitable area and luscious coastal and land preservation areas of natural landscape with no 'Natura' restrictions. This land property is at around a 300m distance from the new owner's 480.000 m2 after its sale by the HRADF (Hellenic Republic Asset Development Funds).
'Nereus', the privately owned land by K.Lemos was developed as a complex of international tourism.
The low use conceptual study was geared to a low building coefficient for quality development:
1. Luxury hotel (250-300 beds) west of the promontory.
2. Four star Marina hotel (400 beds) east of the promontory.
3. Vacation village in clusters of small housing units within the south plain.
4. Luxury private villa sites at the steep south area.
The above would contain all proportional facilities for central core needs of shopping, restaurants, leisure, first aid medical etc.
A similar tourist program between these two tourist areas could definitely strengthen Kassiopi's visitors appeal.